Eliminating Child Labor In Indonesia
May 24, 2016
Through its predecessor companies and former partners, Alliance One began directly contracting with growers in Indonesia through the Integrated Production System (IPS) more than 15 years
ago. PT.AOI, our Indonesian subsidiary, introduced our Agricultural Labor Practices (ALP) program to growers in 2011 and formally rolled it out to 100% of our grower base in 2012. That year, we made significant changes to our grower contracts and included provisions related to the prohibition of child labor.
Since that time, we have made significant progress in helping our contracted growers produce a higher quality crop that is produced in compliance with Good Agricultural Practices (GAP) and our ALP program. Between 2013 and 2015, our proportion of total purchases by volume from IPS growers in Indonesia increased from 79 percent to 92 percent. By directly contracting with growers, we have been able to educate them on the principles of GAP and ALP, introduce them to sustainable tobacco production initiatives and monitor them for compliance.
Farm Monitoring
Our farm monitoring has increased from visiting each contracted farmer 12 times per year to 20-24 visits per year. Throughout these visits, PT.AOI field technicians place a substantial emphasis on educating growers about the ALP principles as well as analyzing labor issues so that we can better understand the reasons why they are occurring. In addition to the visits from field technicians, PT.AOI management conducts one random, unannounced visit to each grower during the peak season, which is when child labor incidents are most likely to occur.
If we find a violation of our ALP program on our contracted farms, the field technician immediately raises the issue with the grower to mitigate risk. We discuss the issue with the grower and then work with him to develop an alternative solution for whatever the reason it is that the violation occurred. The issue is documented in our Growers Management System (GMS), and we continue to monitor the situation through repeated follow-up visits to the farm. Our primary emphasis is on helping growers continuously improve their GAP and ALP practices.
Through farm monitoring, we have found the local farming culture, the need to reduce labor costs, and the desire to improve financial conditions to be the primary reasons why children may be involved in tobacco production in Indonesia.
Projects to Combat Child Labor
Mechanization projects
Through sustainable tobacco production initiatives, we have been able to minimize labor needs and mitigate child labor incidents. The introduction of our Metal Clips Adaption project, as well as cutting machines, are just two examples of projects aimed at automating some hazardous activities, improving efficiency and minimizing labor needs. In 2015, our sustainable tobacco production initiatives eliminated more than 128,000 labor days, thus minimizing the risk of child labor.
Farmer GAP Day
Farmer GAP Day is a two-day event held in three locations aimed at improving growers' ALP and GAP understanding and financial literacy. A variety of farm safety topics are covered during this event, including proper CPA application, Green Tobacco Sickness and the importance of Personal Protective Equipment (PPE). PPE is distributed free of charge to 100 percent of our contracted growers and workers. More than 2,900 growers, growers' wives and community residents attended our most recent Farmer GAP Day events.
Child Labor Eradication in Tobacco Areas (CERIA)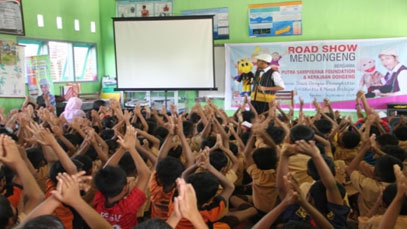 CERIA is an afterschool program available at eight schools in areas with a high density of tobacco farmers' children. Developed in collaboration with PT HM Sampoenrna and two leading Indonesian NGOs, the program delivers a series of extracurricular afterschool activities and conveys messages about safely working on the farm and child labor issues.  A primary objective of the program is prevention of growers' and workers' children from working in tobacco and engaging in hazardous tasks.
CERIA has been so successful that we plan to double the number of schools participating in the program in 2016, making the program available to a total of 2,200 students. Alliance One will provide 140 scholarships this year.

Results
While much work remains to be done, these programs are having a positive impact. As of May 22, 2016, approximately 92% of contracted farmers' children ages 6-14, and 91% of their children ages 15-17, were actively attending school. Continued farmer education and training, combined with additional programs such as CERIA and the introduction of sustainable tobacco initiatives, through the Integrated Production System is the best way to eradicate child labor from tobacco production in Indonesia.
For more information about how Alliance One is addressing the issue of child labor in Indonesia, please view our detailed response to Human Rights Watch's request for information on this topic.
Back to News